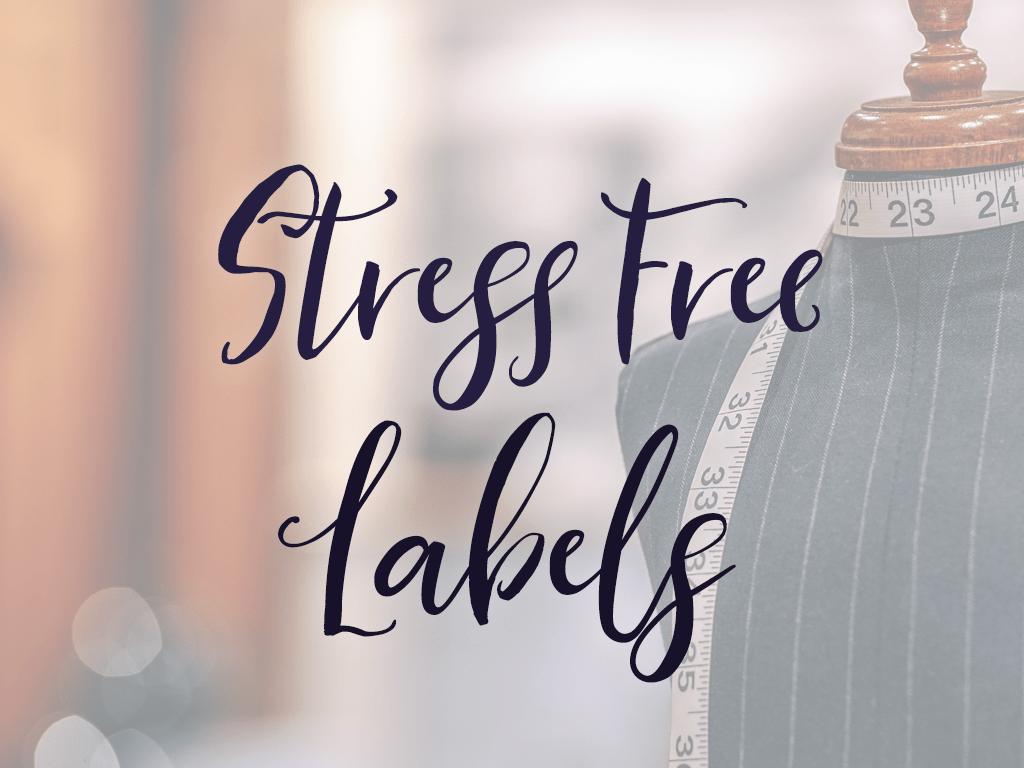 Stress Free Subscription – Black and White Thermal Printed Labels (SATIN)
From: $18.00 every 3 months
Take the hassle out of your supply order with our recurring label ordering system! Fold Over labels include all care labels and brand labels with a raw edge. These need to be sewn into a seam. The same great labels now delivered to your door automatically every month. Never worry about running out of labels. With our customized recurring order system, you can rest assured that you won't be paying rush fees or running out of labels. Improve production by having supplies always on hand and never having to delay your orders.
Description
How Many Should I Order
Subscription Information
Description
Thermal Printed Labels are a basic style and budget friendly way to label your products. Utilizing industry standard thermal printing technology available in lower minimums, you can have professional labels in low quantities. Large quantities are also available, order as many as you need!
Labels are a great way to add a professional touch to your handmade items. Ideal for personal use or small business manufacturing, and perfect for those needing CPSC compliant labels while staying conscious of your budget.
Black ink single color print only. Permanent prints that last through standard washing and drying of garments and other textiles. Heavy duty laundering may require our higher quality full color labels.
100% Polyester Satin Ribbon
Delivered Cut – Sew these into a seam to prevent the ends from fraying.
Include the label information desired on the label in the "Label Text" section. You may include information such as font selection, text color, and basic instructions in this area. Please be aware that the text may need to be adjusted to make the labels legible due to the size and text.
Upload any necessary graphic or label design files to the file up-loader. The files should be 300 DPI and acceptable formats include JPEG, PNG, and PDF.
Order information, shipment, and tracking information will be provided via email once the order is submitted. Please read through the shop notices and policies prior to submitting your order.
How to calculate quantities to order:
Take the total amount of labels used over the passed year and divide it by 12 to get your monthly average. Next, look at your total yearly sales and calculate your percentage differed from the year prior. Take your average a multiply it by the percentage. This number is the quantity you can expect to use each month. Some months will be slower than this average, and that's OK! This will give you a cushion to have extras on hand for the busier season without delays while waiting on suppliers who are busier too.
We recommend rounding your estimate up as a better cushion, but don't worry if you end up needing to adjust your quantity; upgrading your order is easy!
Here is an example of calculating the quantity to order:
2017: Used 5000 Labels. 5000/12 = 416.66 Average = 417 per month.
2016: Used 4250 Labels. Growth rate  = (present – past) / past. (5000-4250)/4250 = .17 or 17%
Average 417 x 1.17 = 491. Rounding up to 500 per month.
Orders are billed and shipped automatically each billing cycle. You have the ability to chose the date, quantity, style, reorder time frame, and to upgrade/downgrade your plan.
Changes to your orders must be submitted 7 days prior to the billing date on your plan in order to take effect for the next shipment, otherwise changes will be applied to the following shipment. Changes can include design updates, changing logos, alternate text, and label design. If proofing is required, an additional fee may be billed.
Addresses and payment information must be kept up to date to prevent cancellations or suspensions of your plan. Cancellations and suspensions can result in additional fees to your account.
Stress free labels require a 3 billing cycle minimum, and rates will be locked in for 12 months. Rates are subject to change due to market conditions and inflation. You will receive notice of any rate changes should they occur. Terms and conditions are available here.