What Labels Do I Need?
Nichole
Are you overwhelmed by the options? Are you struggling with deciding which size, style, or label you want to use for your products? Worry no longer, friend! We have compiled all the information to answer any and all questions you might have about our label options.

The majority of our labels are full color printing, although we also offer thermal printed labels for a more cost effective option, and engraved labels on cork and faux leather. All of the label listings are sorted by printing type, fiber type, and then within the listing you can select more options, such as size and color where applicable. The options all come from a few basic ribbons and print methods that we have set up to meet all of the different uses. If you have checked out both the fold over labels versus brand labels, they are identically products, but made easier to understand a design layout. And the same for logo labels versus hem labels. With these options, it allows us to be completely flexible and make your labels exactly how you're envisioning!
Heat sealed edges will keep your labels from fraying. These can then be sewn onto products for easy branding and identification. All of the full color logo options are available in full coverage print too, so while most logos work best on a white background, if yours comes in color- WE CAN PRINT THAT!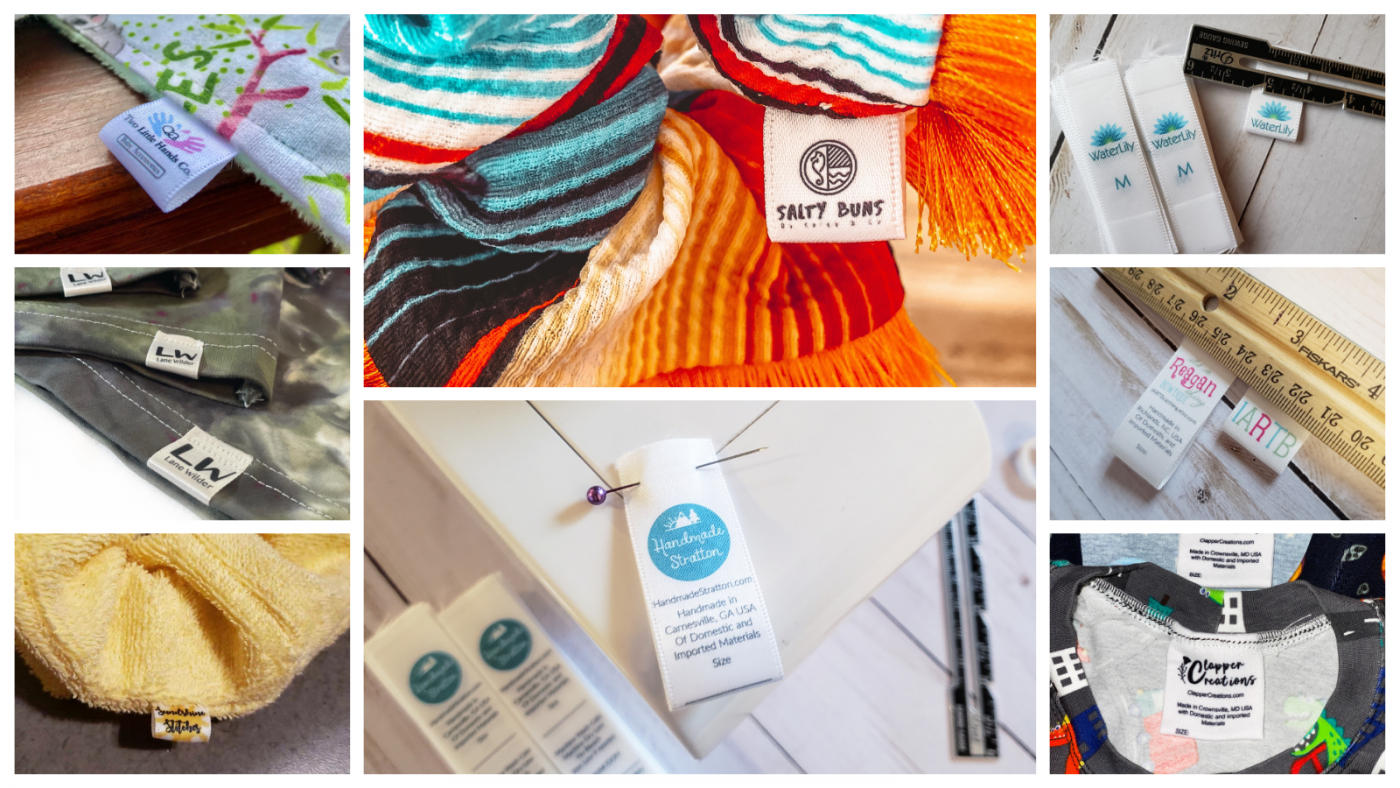 Fold over labels are the most popular as care labels with the ability to put a lot of information on both sides of the fold and meet legal requirements. This style is also used in brand labels, and hem labels (although hem labels are heat sealed so the edges won't fray) brand labels and fold over labels do need to be sewn into a seam to keep them from unraveling. These are available in a variety of sizes to meet all of your product needs, from 3/8″ all the way up to 4″ wide. They're also available on satin, twill, thermal, nylon, and fabric labels, depending on your specific budget and printing needs. For logos that are very detailed with fine lines and a lot of text, we recommend the full color satin for the best quality prints.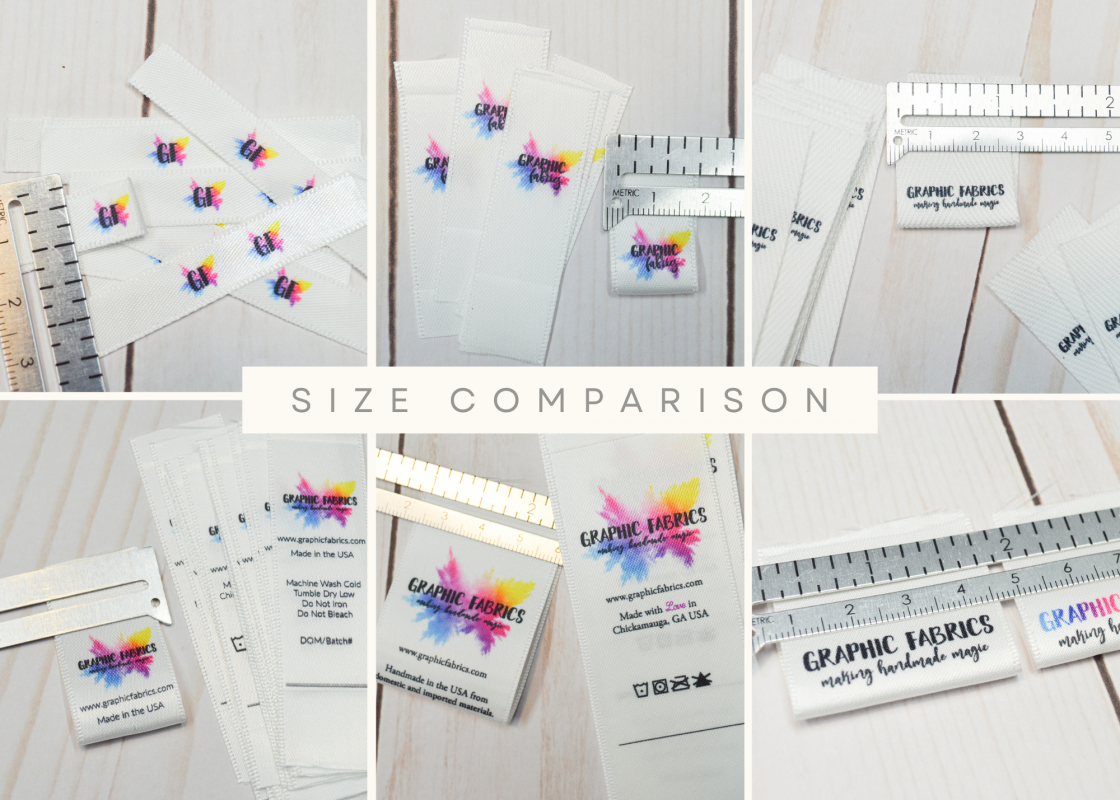 Which size should you get? It really depends on the logo, amount of text, and the product that they will be sewn on, we will do our best to work with your specific scenario. Our most popular size of care labels for children's apparel is 7/8″ size, while 1.5″ is a very close second for those with cloth diaper instructions or long fiber contents to include. We also recommend the 1.5″ over 7/8″ for wide set logos to make sure that the details will pop. New orders will come with proofing, to ensure that your selection is the right choice, and if we need to make any changes, we are always happy to find something that will work, either by editing your logo or swapping out for a different size/style. Another consideration is that twill has a texture that tends to eat details with the way the fibers are woven, however, we will do our best to edit the files to print clearly if needed!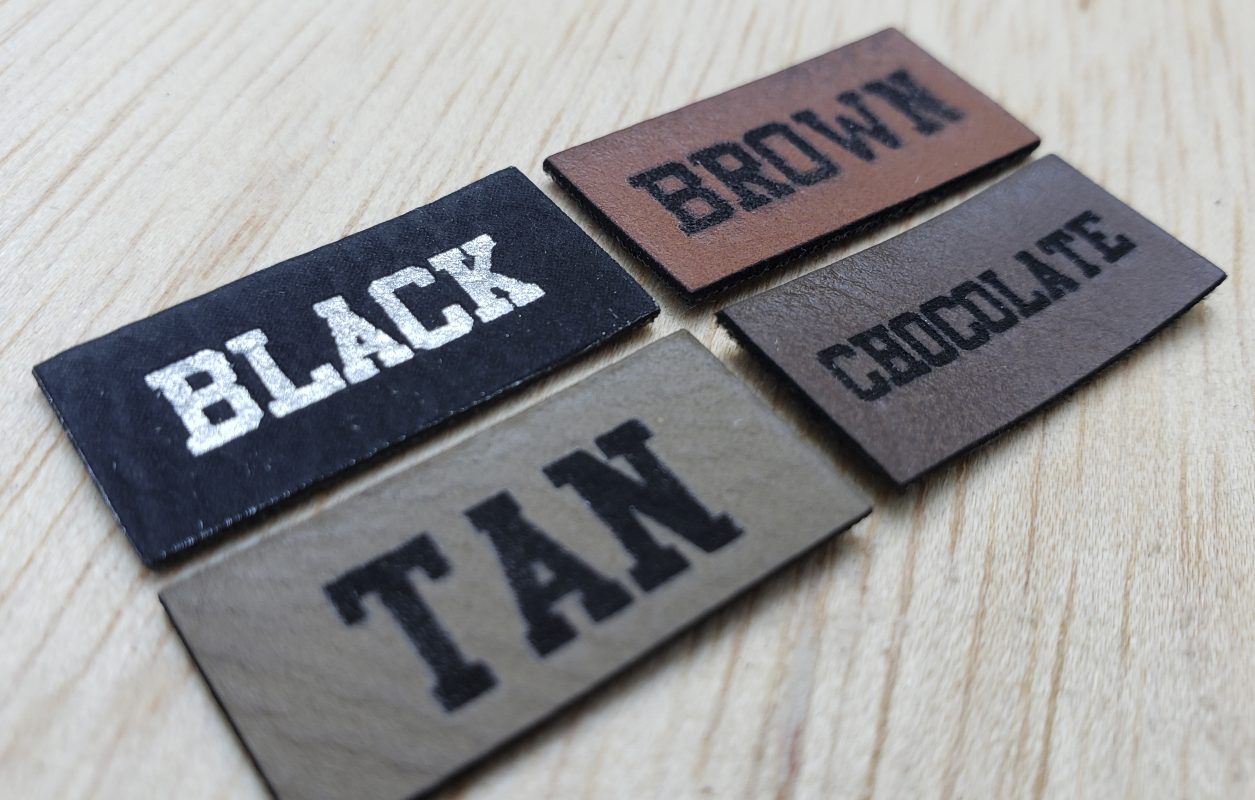 Engraved labels are a great option that is super popular for knit and crochet items, or for hem tags on clothing or accessories! We find these to be best with simpler logos such as a black and white version. With any of the engraved options, bold with hold, is a great term to consider. Thin lines and tiny details won't necessarily translate the same as they do in print, and while we will do everything we can to edit and get these perfect, there may need to be some reworking on some logos.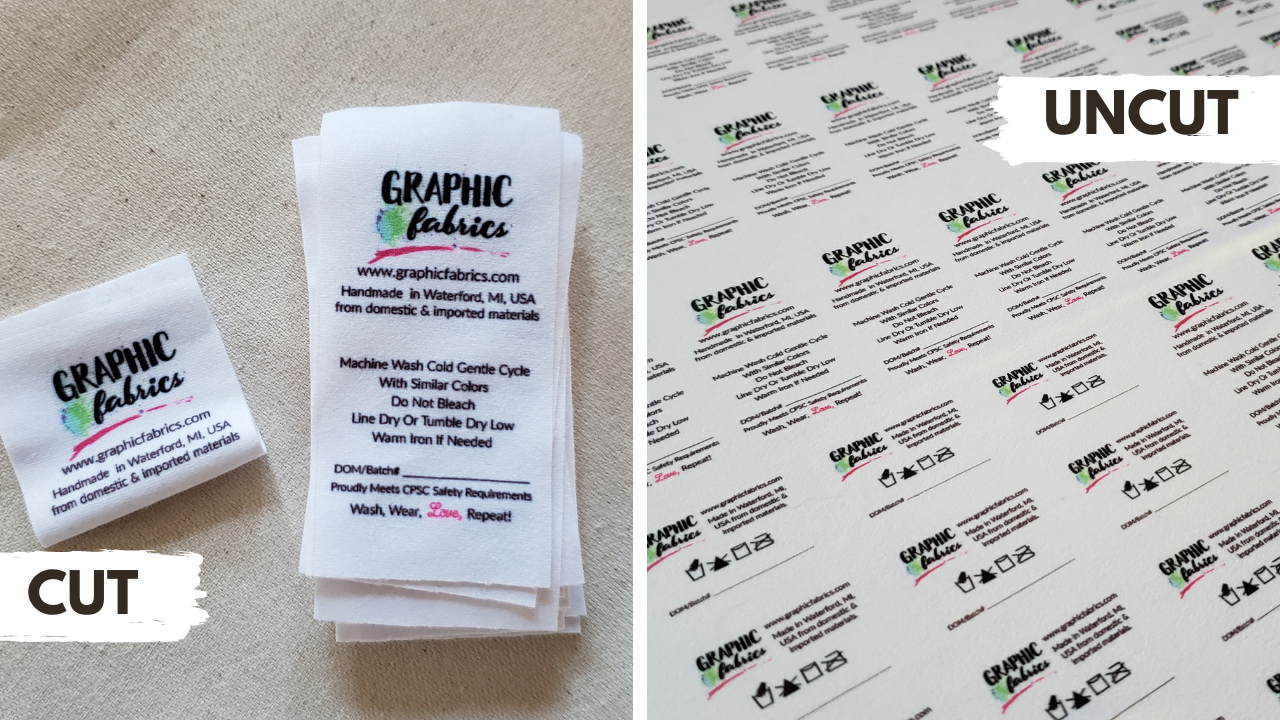 Fabric Labels have become a huge hit recently, as they are printed on a knit fabric that doesn't fray in the same high quality full color printing as the labels, so they're able to hold the details in small print! We offer both cut and uncut options, to cover all the bases. Our fabric labels are printed on double brushed polyester knit, however we do have other bases available for other needs, including a thicker athletic knit, satin, fleece, broadcloth, poplin, and more upon request.
As ALWAYS! Feel free to email us with any questions or concerns. We are always happy to help you figure out your labeling needs! Info@graphicfabrics.com or text me at (248)266-2109