How to Design a Label
Nichole
We offer a wide variety of label styles to use for your products. Take the time to research the limitations and requirements associated with each style to make sure your design will work with the style you want.
Also consider the product that you are labeling so that your labels will last the lifetime of your products. A knit hat will not have the same heavy wash requirements that a cloth diaper will. Fortunately, our full color print labels look great on several applications while withstanding the harshest laundering without fading.
Faux leather labels have a higher durability than genuine leather, whereas cork is about as durable as leather but as versatile as fabric. The engraved labels are an excellent option for exterior labeling, such as on purses, hems, and shoes. Full color labels in these cases run the risk of snagging and pulling at the fibers of the fabrics. Another consideration is the finish of the label. Many labels we offer come in a raw edge or sealed edge option. Raw edges are more affordable than the heat-sealed edges, however they will fray if they are not sewn into a seam or finished by the user prior to sewing them onto the products. Raw edges are best for care labels and tracking labels sewn into hems on the inside of garments. Heat sealed edges work best on products you cannot sew into a seam, single layer care labels to sew only the top into the seam or want a flat label to sew onto a finished product.
Determine What to Include
Once you have determined where you want to use your labels and which style will work best for your application, you will need to brainstorm the information you want to include on your labels. A great starting point will be to see some existing labels to get some ideas. Logos are an excellent way to advertise your business, sewing a permanent label with your logo on it to the outside of a garment tells everyone who sees the garment where they can get their own and help grow your customer base. Products with specific laundering care instructions can include labels inside telling users the best way to keep the product like new and avoid damaging it.
If you are following CPSC compliance and FTC regulations, the required information will depend on your product's user age and type of product. These regulations can be confusing, but we work to make it easy for you to ensure your products fall within both jurisdictions' regulations. For more information, check out our detailed breakdown on compliant labeling here: https://graphicfabrics.com/labeling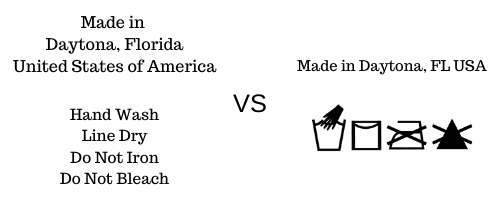 Labels are small, you want to make sure they are going to be legible for your customers. The best fonts to use on labels are traditional and clean fonts, when your text area is meant to be informative or include more than 1-2 words per line. Logos often will have scripts and uniquely styled fonts, when paired with a strong contrasting background, we rarely run into issues finding a label that will print these logos clearly.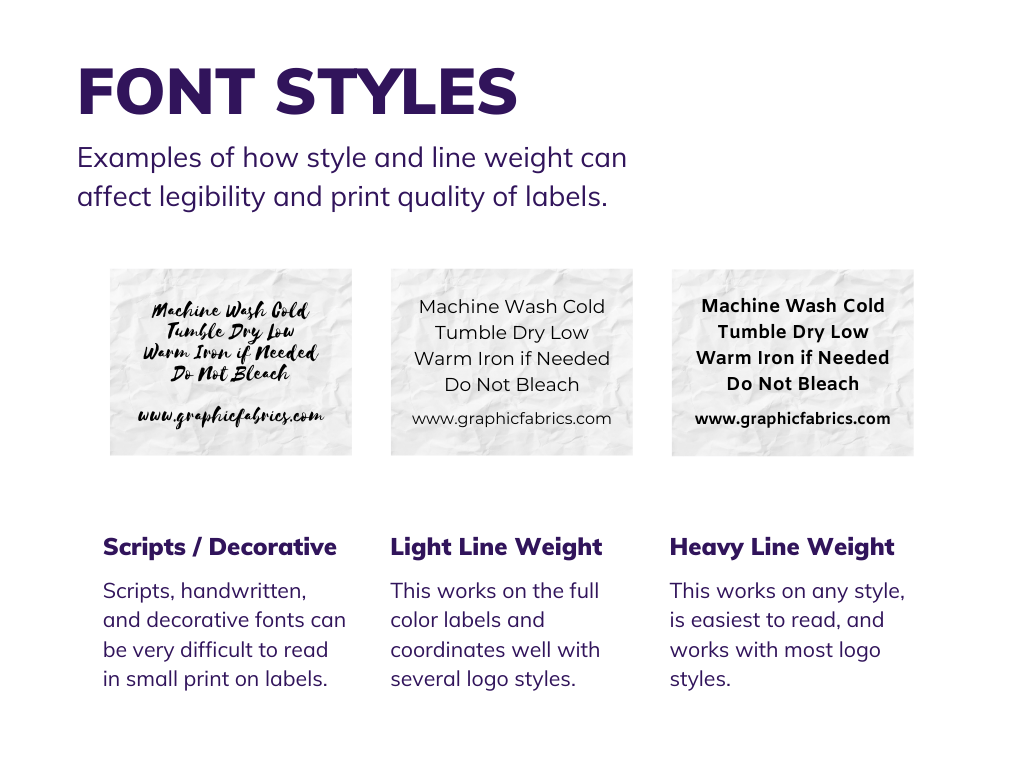 The contact information, care instructions, and batch information should be a complementary yet basic font. Our favorites for the full color labels are Lato, Cake Sans, Times New Roman, and Adobe Garamond Pro. Other options that print great are tall skinny capital styles such as Moon Flower or Penelope Ann.
When working with engraved and thermal printed labels, a heavier weight font is often necessary to give a deep enough engrave or transfer to be legible on labels, where we recommend fonts such as Lato Bold, Eras Bold, Monterrat, and Athletic. Any light weight font can add an outline to thicken the line weight in design programs, so if you have a light weight font you prefer to use on the design, we can try to work with the selected font to make it print clearly.
Check out free fonts for use at http://www.dafont.com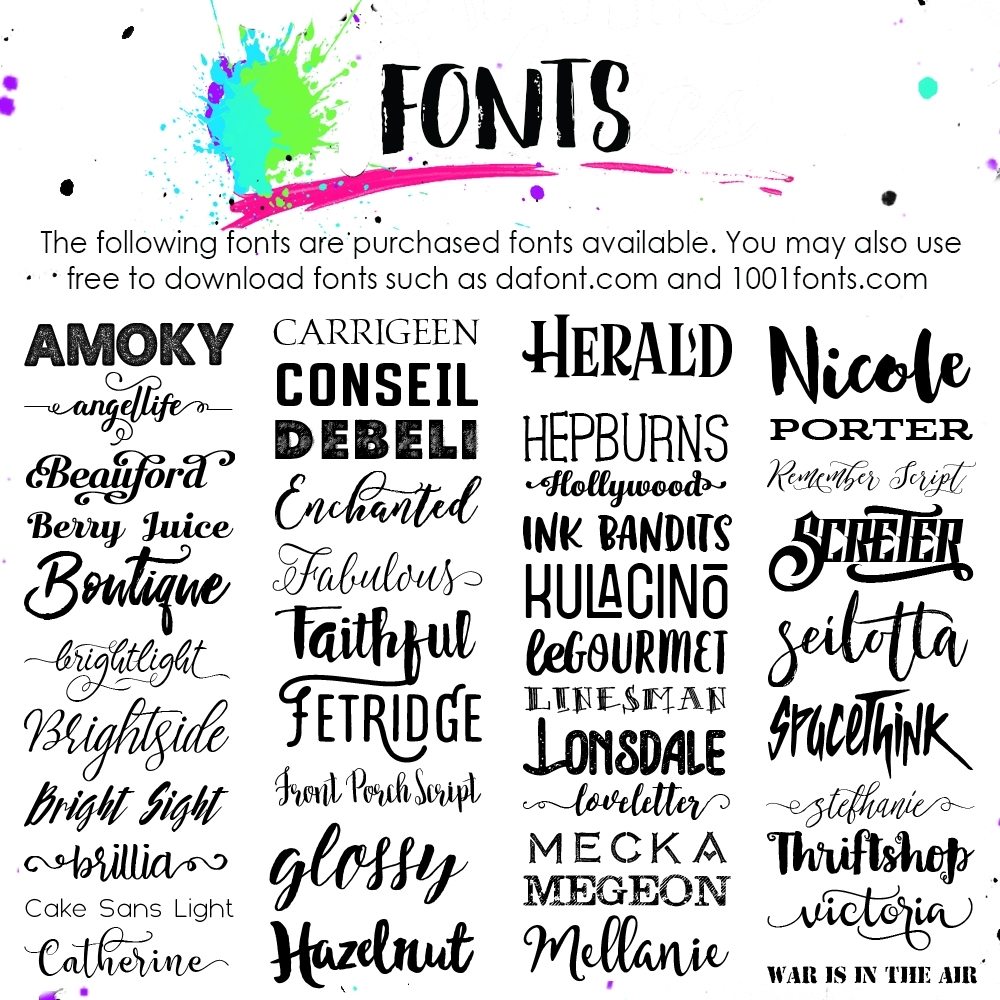 Fold over labels are a looped style that come printed single sided, are folded in half, and then sewn into a seam allowing you to avoid labels hanging off the product excessively and risking being cut off. When you are designing the label for a fold over style, remember the spacing should be as close to equal for the content on the front and back, so that you don't have unnecessary large white spaces of unused space on one side, or accidentally sew over important information.
Traditional fold over style labels are sewn into a collar, and then the label will be lifted to view the information on the back. This orientation means that the front and back information will both be right side up printed on the front of the label.
Outer and reversible items using fold over style labels are typically sewn into an edge and will be visible from both the front and back of the item. This is most common for blankets, bibs, toys, and some accessories such as gloves or hats. When using this orientation for labels, the label will be viewed from the front and then to read the back, the entire piece will be turned over, and in this case the front and back information will be flipped. This will look as if the text on each side starts at the cut edge of the label and will always have half appear upside down until it is folded and viewed from each side.
We want to keep labels as short and sweet as possible, since most users will not want to read paragraphs about how to properly wash their items or the proper instructions for using their items. In many cases, using symbols in place of text will make the tag more aesthetically pleasing as well as allowing the label to be read by users in different language backgrounds.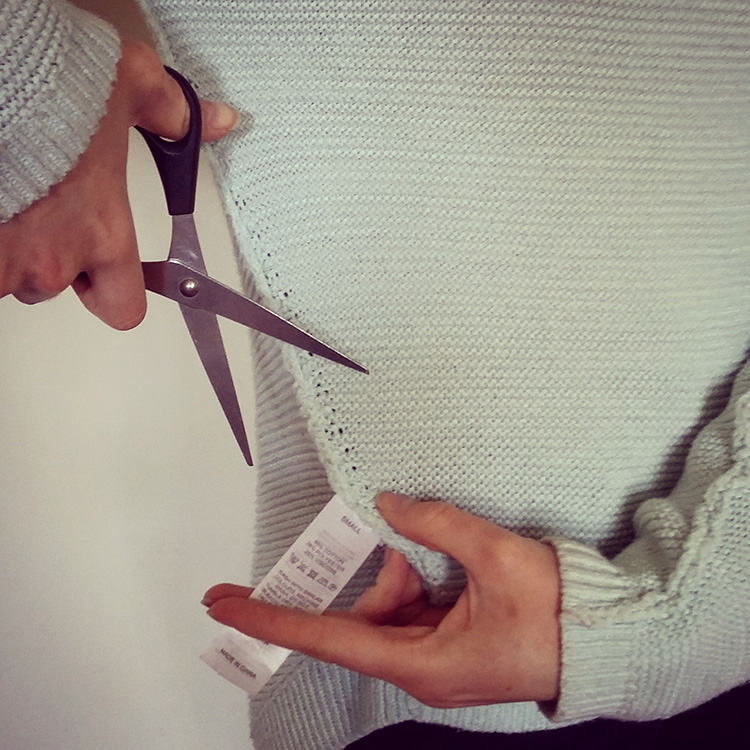 Any time you can replace care instructions with laundry symbols, this will save several lines of text since the symbols can be all printed on a single line and can be recognized worldwide. Other ways to shorten label text is to use a simple email address or url instead of long ones. Check with your website or ecommerce front to see if your site offers shortened versions. For example www.facebook.com/graphicfabrics can be shortened to fb.com/graphicfabrics and http://www.etsy.com/shop/graphicfabrics can be also be access by typing graphicfabrics.etsy.com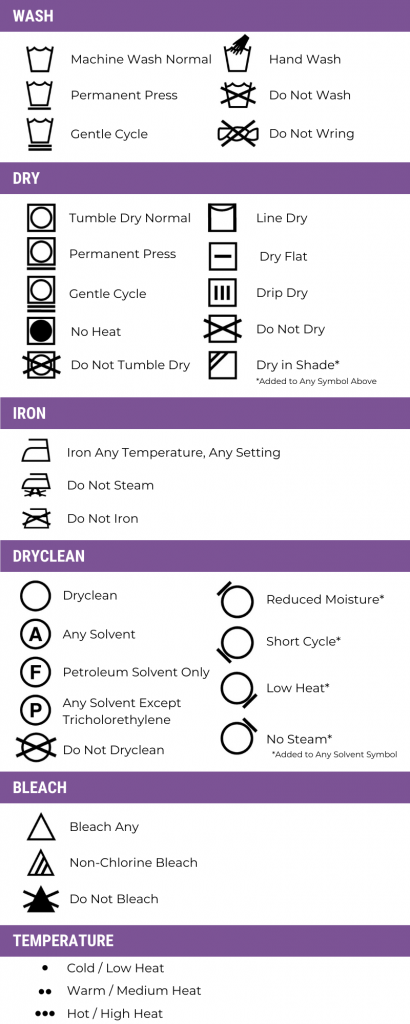 Printers will have specific printing requirements that you will want to keep your design within so the design doesn't end up printing over the edge or into the side banding on the labels. We will scale label designs that we feel are too close to the edge, however this can cause the text to shrink too much and become illegible. Using the wrong profile or color mode can result in some drastic variation from screen to print which can create some strange color results.
It is best to plan accordingly and know your printers' specific requirements or stick with letting us do the designing for you. We include label design with every new order so you don't have to worry about the printer profile, print margins, color profile, or quality of saved file type. We are happy to provide this service since we know how challenging designing label print files can be along with all the other roles you play in your business.
We are always happy to help set up your label design, shoot us an email with questions at info@graphicfabrics.com to get your label process started today!